Create your own Branded Digital Travel Guides for your business – now also as White Label
With the new white label options of the myLike platform, businesses can now easily and cost-effectively create their own branded digital travel guides with their personally curated recommendations for their customers. As a White Label version now exclusively under the business's own brand and adapted to the corporate CI (Corporate Identity). This allows companies from the travel, media, mobility or hospitality sector to improve their customer service and increase their sales through bookable tips without having to invest several million in the development and maintenance of their own software solution.
myLike is a digital platform that allows businesses and private users to share personally curated recommendations for places, attractions and experiences with customers or friends. In addition to the open platform, there is now an option for companies to use the platform exclusively under their own brand as a 'White Label solution'. For this purpose, the platform is graphically adapted to the corporate CI and becomes mobile usable as a self-configured, branded digital travel guide in several languages. The white label option is the perfect solution for any travel and tourism provider as well as for mobility companies and hotel chains. Lifestyle magazines can also make their tips for tourist destinations under their brand available to their readers in a mobile, navigable and bookable way. Having your own branded travel guide is also an excellent service for conference and trade show visitors on business trips.
only

 your brand will be visible

only

 your tips and comments are visible to your customers
your Digital Travel Guide will fit to your CI
integrate it in your apps and systems
decide who can see your tips
build your own community around your brand
add your own affiliate links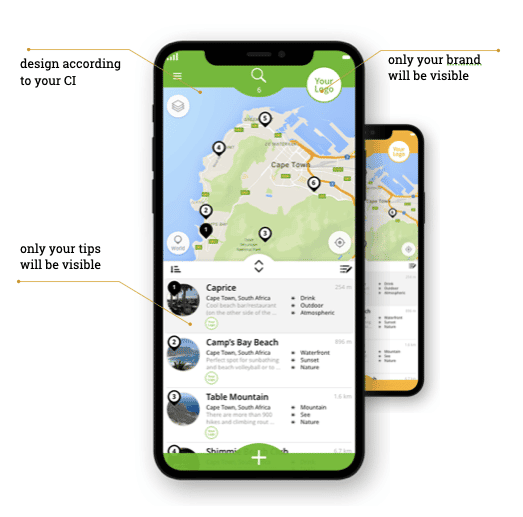 Users can explore these individualized travel guides on their smartphones without installing an app, get first-hand tips, save experiences, navigate to locations and make online bookings.
In addition to the branded mobile application, myLike's Map Widget allows businesses to integrate their guide into their websites, blogs, info terminals or apps – from where customers can sync content to their smartphone with one click.
myLike's Map Widget converts each website, blog or terminal into a digital travel guide – adopted to your CI
The branded travel guides can also be made available to customers through deep links via mail – for example as part of a booking confirmation -, WhatsApp or integrated into print media as a QR code.
Companies benefit from the possibility of supporting their customers with individual tips in themed lists or tour suggestions, commenting on them in multiple languages and adding photos. Address details and opening hours are automatically added by the platform and changes are updated everywhere – making the creation and maintenance of tips very convenient.
The new White Label option is available now as Basic, Advanced and Community version. For more details about your own Digital Travel Guide please contact info@mylike.io.