Digital. Personal. Inspiring.
With myLike's Mobile Concierge, you can offer your guests customized Digital Guest Directory and a personalized Digital Travel Guide. Now you can provide your guests with useful, hotel-specific information as well as your personally curated tips for great places, tours and experiences around your property. Directly on your guest's mobile phone without the need to download an app – before, during and after their stay. Share your hotel's essential information and personal recommendations across all your communication channels and systems to create unique experiences and unforgettable memories. Free up your team while generating additional revenue by increasing bookings of your own services and cross-selling selected local services and activities.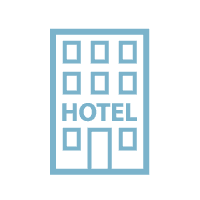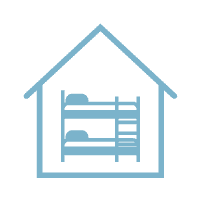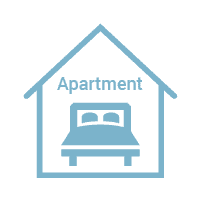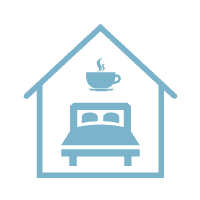 Your hotel specific information and your travel tips directly on the smartphone of your guests – without loading an app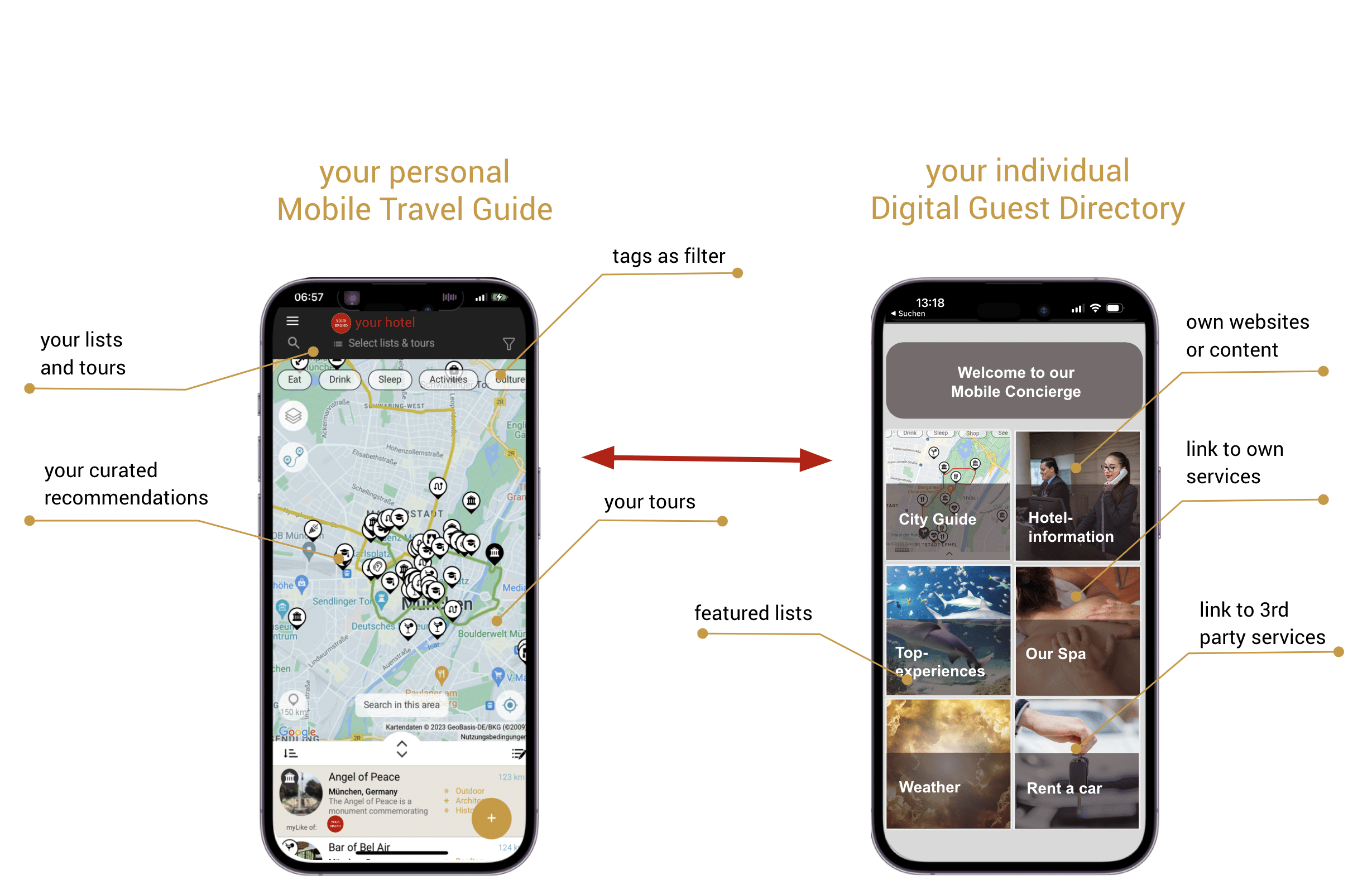 Your website, blog or wifi landing page become interactive with maps created with our map widget – ready to be synced by your guests to their smart phones.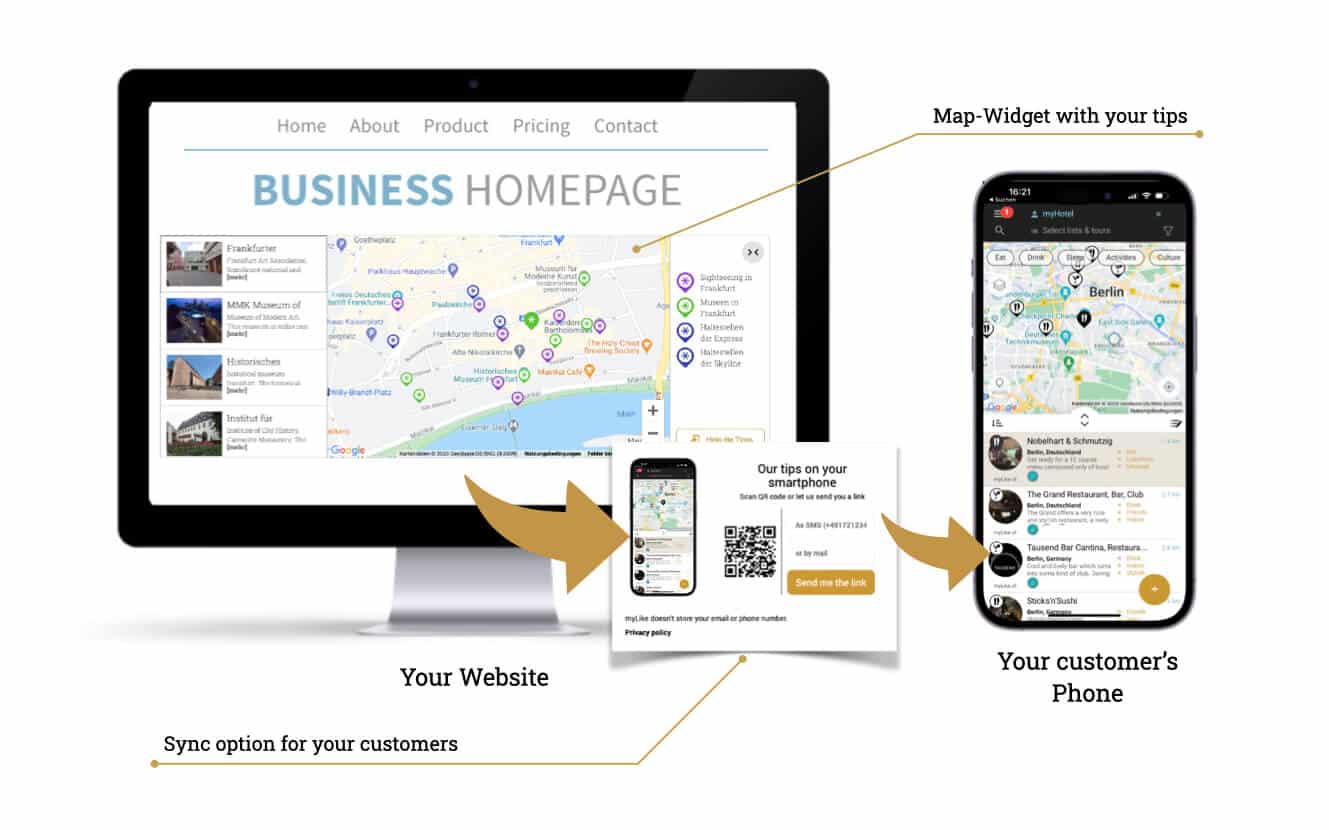 Your infotainment system or info-terminals with interactive maps or PWA can be synced by your guests to their phones.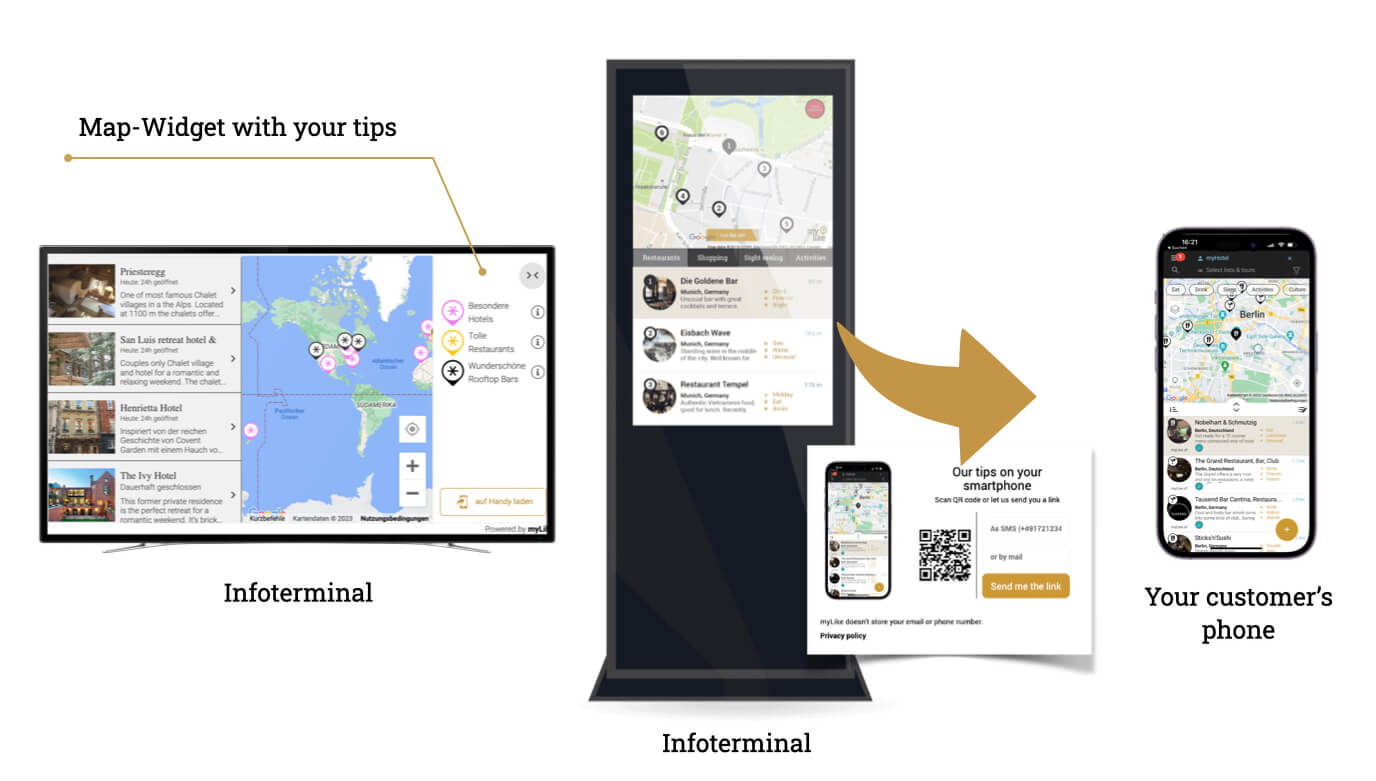 Your room pads with interactive maps or Progressive Web App (PWA) which can be synced by your guests to their smart phones.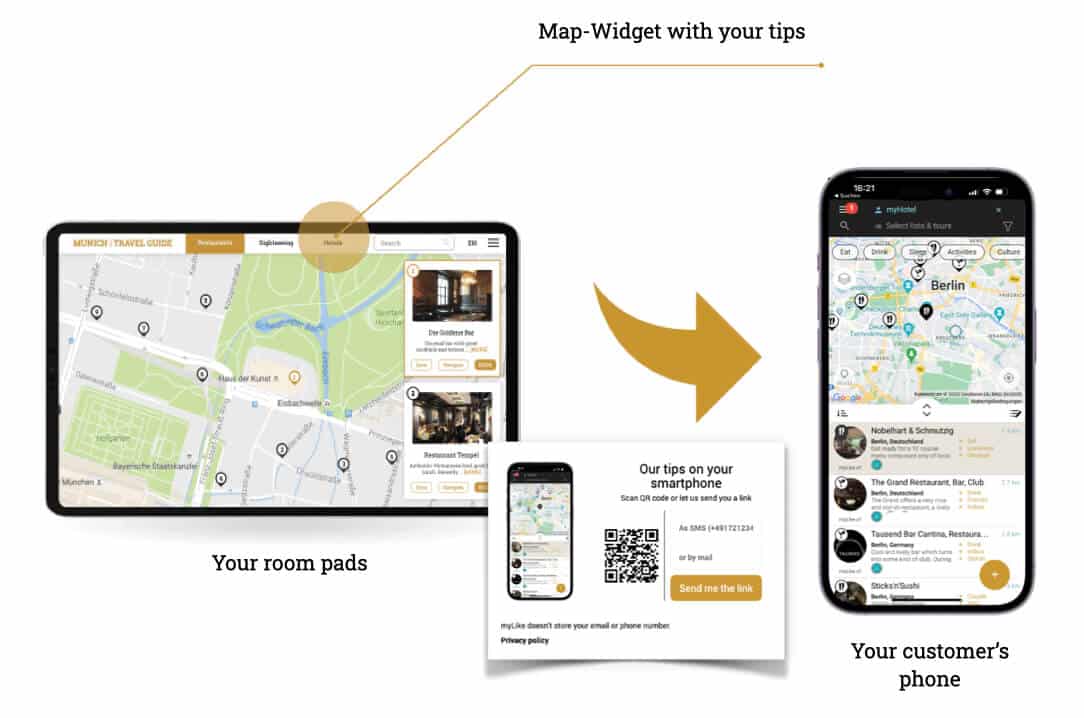 Your guests can sync the tips from your print material directly to their smartphones.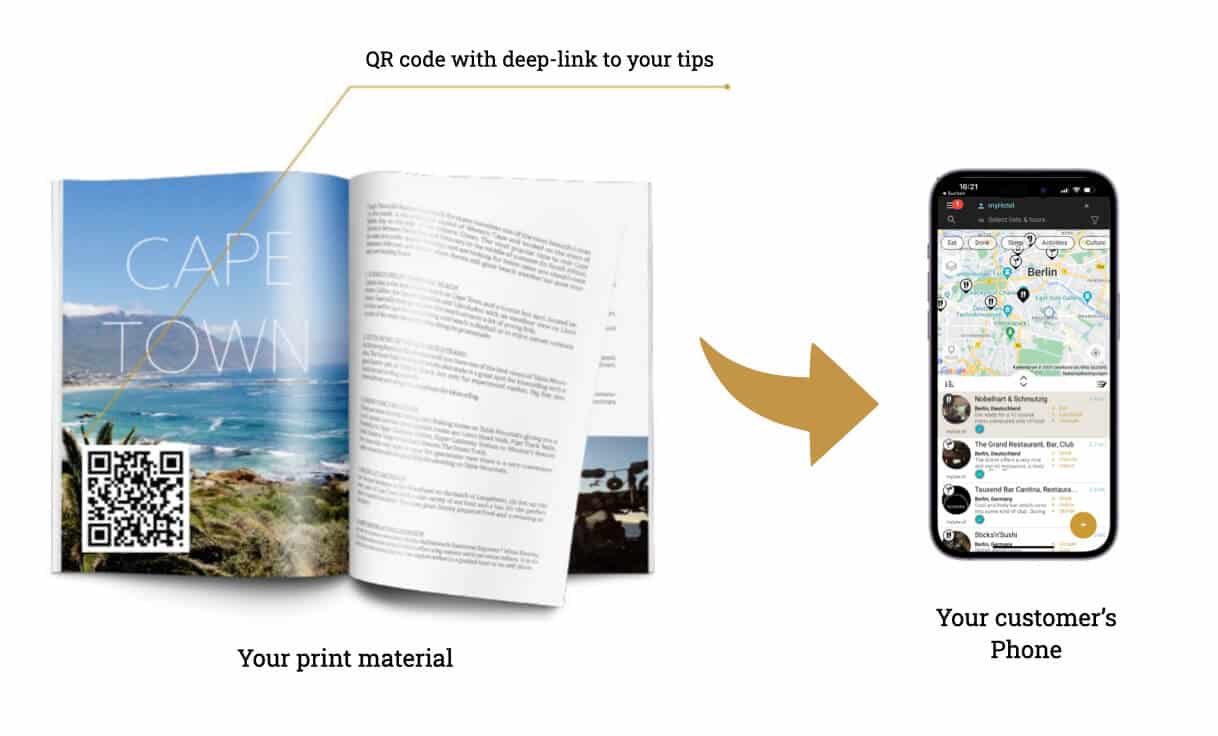 BE PART OF THE WHOLE
Guest journey
before, DURING AND AFTER THE STAY


Integrate interactive maps in your website with your map widget with customizable CI design. Your guests can synchronize your tips with one click to their smartphones and explore and book them.
Integrate our interactive map widget with customizable CI design elements on your website.
Features
SAVE PLACES & EXPERIENCES
SAVE PLACES & EXPERIENCES
Save any geolocated experiences and spots like restaurants, hotels, bars, beaches, playgrounds, spas, doctors, clubs, tourist attractions and much more.
CREATE LISTS
Organize your saved spots in lists by topic or interest group and share them with your guests. Convert them to interactive maps for your website with our map-widget.
SHARE EASILY
Share your personal recommendations easily with your guests, inside and outside of myLike – via e-mail, Facebook, WhatsApp, Snapchat and other communication channels.
NAVIGATION
With our integrated navigation option your customers can navigate the quickest way to your tips or order an Uber or other services.
CONNECTING
Connect with your guests and stay connected even after their stay.
MULTI-LANGUAGE
Your customers can use myLike in 11 languages (DE, EN, FR, IT, PT, ES, RU, TR, PL, HR, HU) – more coming soon. You can comment each of your tips in as many languages as you want.
VISIBILITY SETTINGS
Decide who can see your individual tips and list (keep it private or provide access to an exclusive group or to everybody).
MAP WIDGET
Easily integrate your lists as interactive maps into your website.
CONTROL CENTER
Use the business dashboard on your desktop to manage followers, content, lists, links, map widgets, guest mode and more.
FAQ
What are tours and how do I create tours?
uh
2022-05-23T20:43:13+02:00
What is a tour – compared to a list
In myLike you can now easily create tours to
use them for travel planning,
save them as a memory for a great trip or
share them with friends, followers or customers as inspiration.
The idea is that a tour
sequentially represents successive places and – if you want – visually connects them by lines.
(Examples:  if you are planning a trip through the USA and always want to have the sequence of the planned stations in mind, or if you want to show hotel guests a sequence of places that they can then start / approach as they like)
a tour is presented as a detailed track and can show places that are on or next to the tour.
(Examples: a hop-on hop-off bus provider can digitally display its bus routes, stops and sights, passengers can track them on their smartphone and always know exactly where they are and what is waiting for them at the next stop.  Bike or scooter rental companies can provide the most beautiful routes through the city to their customers. Jogging or hiking paths can be offered by hotels to guests on the go)
Option 1: Create a new tour
Go to the <Hamburger Menu> from the main menu
Click on <Lists/Tours>
Click the <Add Tour> button
There you land directly in the edit mode for your tour (you can switch between list and tour)
Give the tour a name and a short description text
Now define how you want to connect the points in your tour. The option you have chosen is displayed directly on the map:

No line – but the places are numbered in the order as you defined in the list
Straight lines – the individual tips are connected with straight lines in the sequence as you defined in the list
GPS data – here you can add an existing route (GPX or KML file) to the places of your tour. Your tips do not necessarily have to be on the route, but can represent options (e.g. hotels, campsites, restaurants… along the tour). Here is a tutorial on how to easily create a KML file directly on Google Maps. Alternatively, download it directly as a GPX from your tracking tool and embed it in your tour.
Define the visibility of your tour (private, friends, followers, everyone). You can change this at any time later again.
Add an inspiring photo that visually represents your tour by pressing the <Add> button. You can change this at any time
Press <Done>
Now you can add points to your tour by opening it and pressing < list/tour> (you can also add multiple tips at once by going to a list, hid <edit list> which is the icon with the pencil on the top right of a list and select multiple places, then you tap <…> and select <add to list/tour>).
If you hit <show on map> you can have a look how it appears on the main map
You can change the order of the tips in the tour (and list) by clicking on the <edit List/Tour> (this is the icon with the pen and the lines on the right above the list entries) and moving the entries with the arrows – then press <Save>.