Gray Line Hop-On Hop-Off : Now digital and even more adventurous with its City Guide powered by myLike.
The Hop-On Hop-Off specialist Gray Line Sightseeing Frankfurt now offers city explorers its own Digital City Guide for the absolute city experience based on the myLike technology platform. The concept combines two ingenious city travel concepts into one. The result: even more first-hand city experience for the modern traveller.
Almost every traveller knows and uses them – the red or blue double-decker buses that travel on fixed routes in the city. Hop-On Hop-Off is the name of the concept and there is no better way to get your overview in a foreign city without missing any of the top sights. Hop-On Hop-Off buses allow unlimited boarding and exiting and audio guides provide quick information on all city highlights served by the buses.
With the new Digital City Guide, Gray Line Sightseeing Frankfurt is expanding its customer service while tapping into additional revenue opportunities. Guests now can conveniently find all important city sights, experiences and restaurants on or along the route directly on their smartphone and, if available, make reservations right away. If enter one of the Gray Line buses in Frankfurt, all you have to do is scan the myLike QR code display in the bus with your mobile phone, and the digital world of the Gray Line City Guide opens up with its great tips for a real city experience. Without the need to download an app.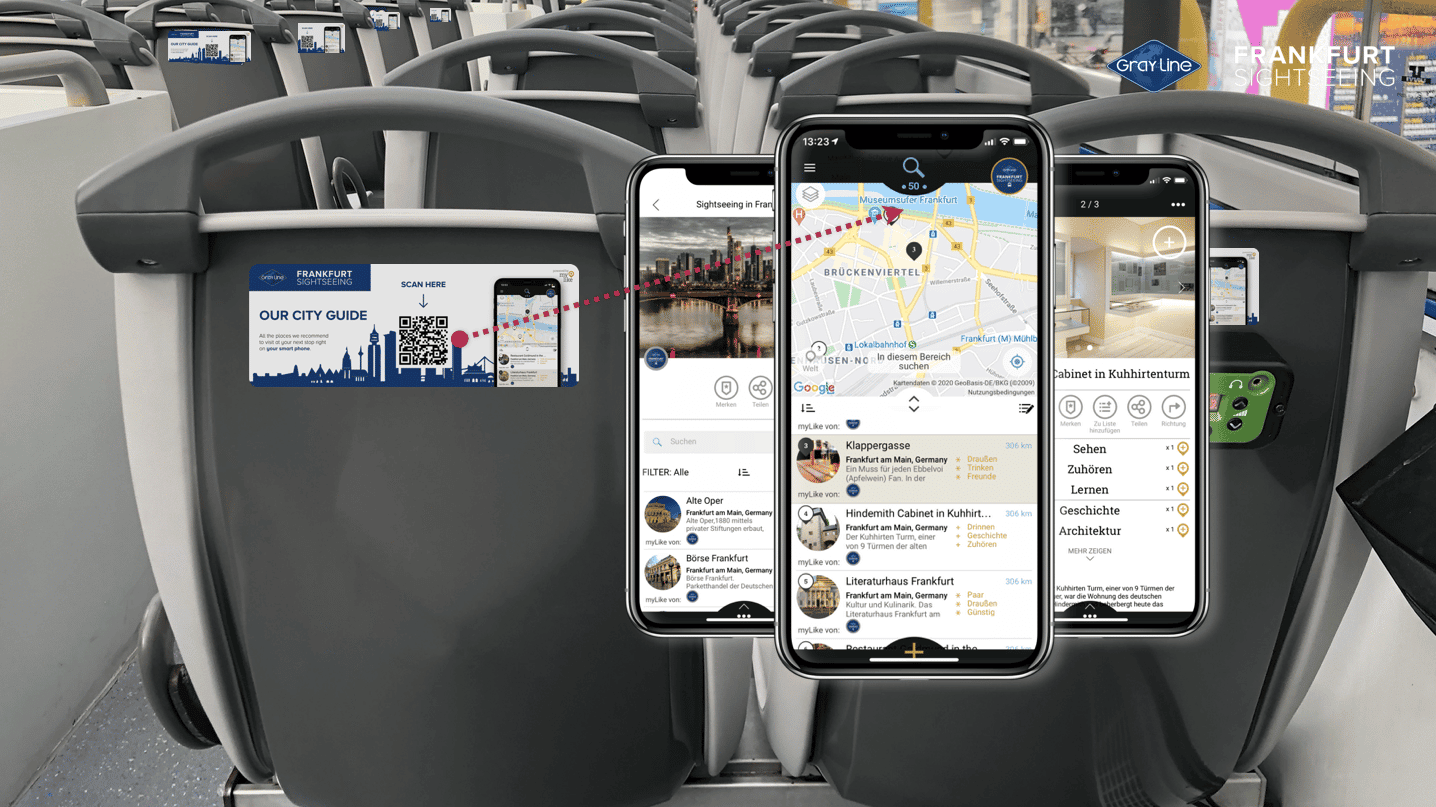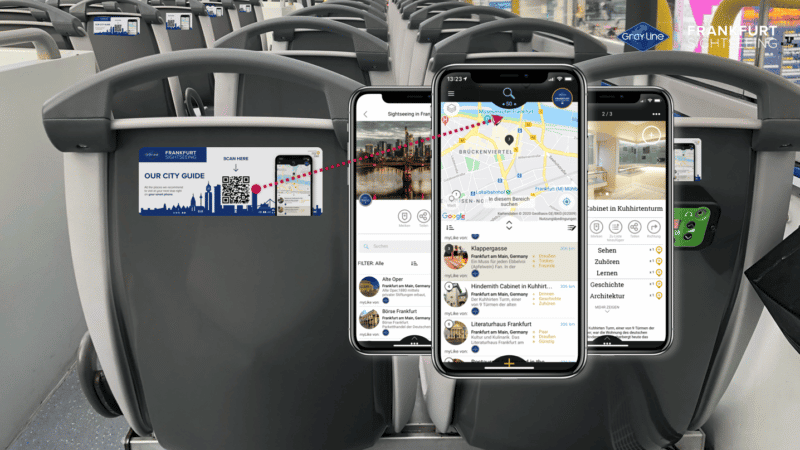 Cost effective QR-Codes lead directly to Gray Line's Digital City Guide – without the need to load an app
The solution, based on the myLike platform, presents itself as a smart Mobile City Guide. The passenger now knows exactly where he is at any given moment thanks to a dynamic map display. In addition, the digital Guide shows what is worth seeing in the city, what is the best way to get there and provides further detailed information in multiple languages about the locations or experiences.
Gray Lines City Guide offers pictures, informative texts, opening hours, navigation options and even the possibility to buy tickets immediately for the big and small attractions in the city.
"We have already tested several digital systems for different areas, but have never achieved such a high level of customer acceptance as with our Digital City Guide," says Joachim Kern, Managing Director Frankfurt Sightseeing.
In addition to improved customer service and increased revenue potential, the Digital City Guide can also support COVID-19 hygiene measures as it is paperless.
Gray Line Frankfurt uses myLike as technology platform for its City Guide. myLike allows companies to create their own digital travel guides and share them easily with customers without having to invest in costly software development. In addition to the QR-Code scan option inside the buses the company's own tips can be shared with customers before a tour via interactive maps automatically created with myLike's Map Widget on their own or partners' websites.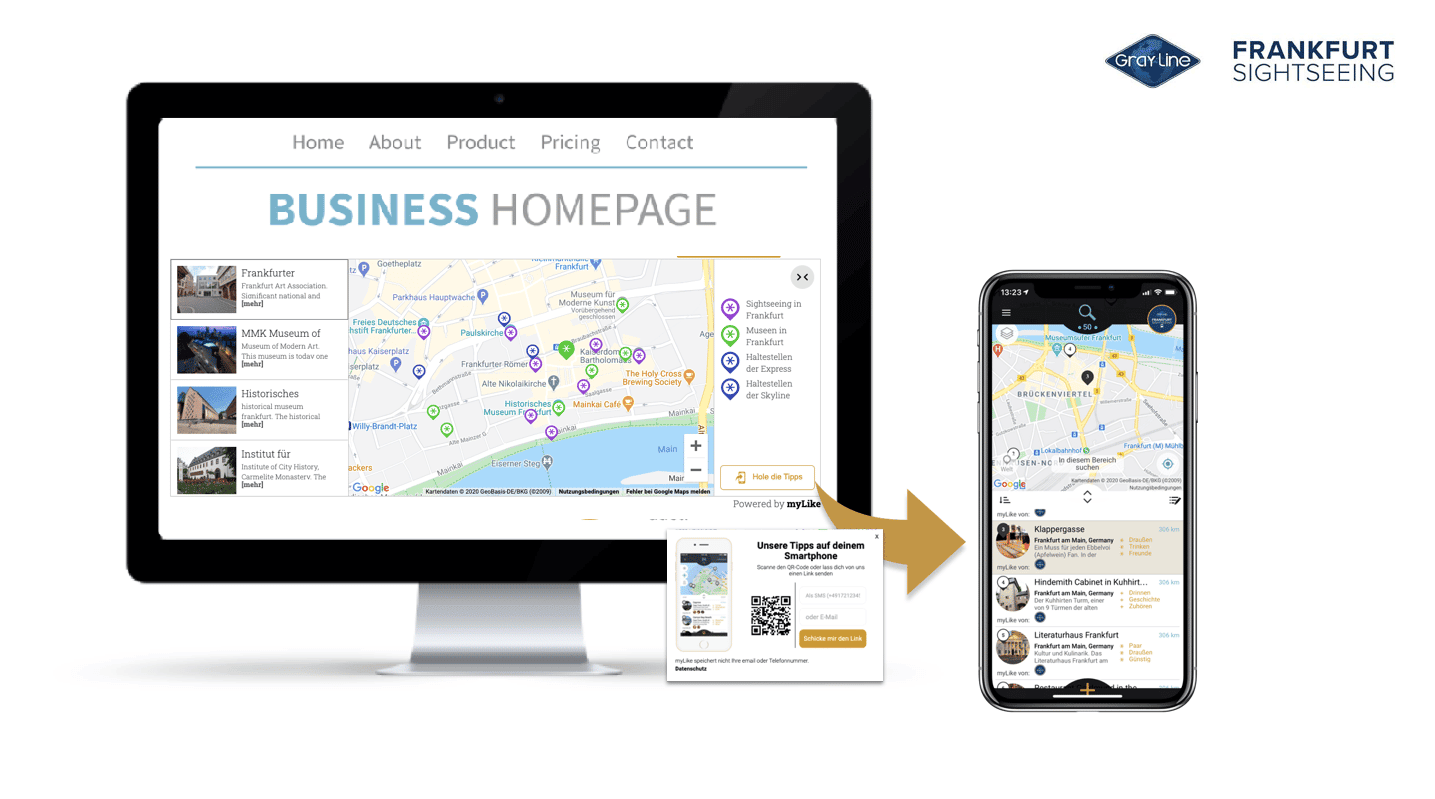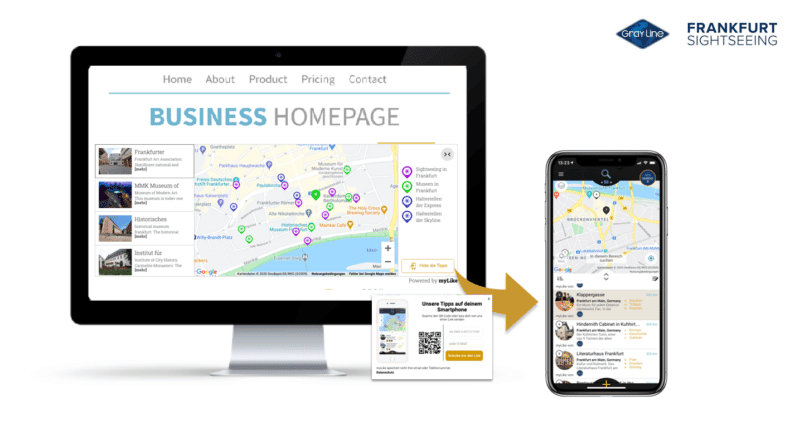 With myLike's Map Widget the City Guide can in addition be integrated automatically inside Gray Line's website or info-terminals – with one click the visitor can sync the guide to his smartphone
At bus stops or in tourist offices, Gray Line's tips can be displayed also in info-terminals and customer can synchronize the recommendations for the tour to their smartphones with one click. After booking a Gray Line tour, the Digital City Guide can also be sent automatically to the customer via email for direct use on the smartphone.
About myLike: myLike is a digital platform for tourism, hospitality, media and mobility companies to provide their customers with their own multilingual digital travel guides. With the myLike platform, personal recommendations for places, attractions and experiences can be made available to customers via all common communication interfaces and integrated into own systems and apps. myLike can be used by businesses as an open platform or as an exclusively branded white label version. If you want to create your own Digital Travel Guide contact: info@mylike.io.