The smart connection: ALPS Magazine and myLike bring us closer to the Alps – now also via smartphone as a digital Alpine guide.
It's a symbiosis of two worlds, so to speak: With a fresh cooperation, the Alpine magazine ALPS and myLike bring the noble look of a magazine with the smart features of a mobile travel guide under one hat. ALPS readers can now take the inspiring content of their magazine with them to one of the most beautiful mountain regions in the world as a digital guide and insider: right into the middle of the beloved Alps.
The times are finally over when print and online were distinct media worlds. Even if the fascination of a well-researched and elegantly presented magazine like ALPS remains unbroken, it becomes even more useful for its readers if, in addition to being a pleasure to read, it also becomes a practical mobile travel guide.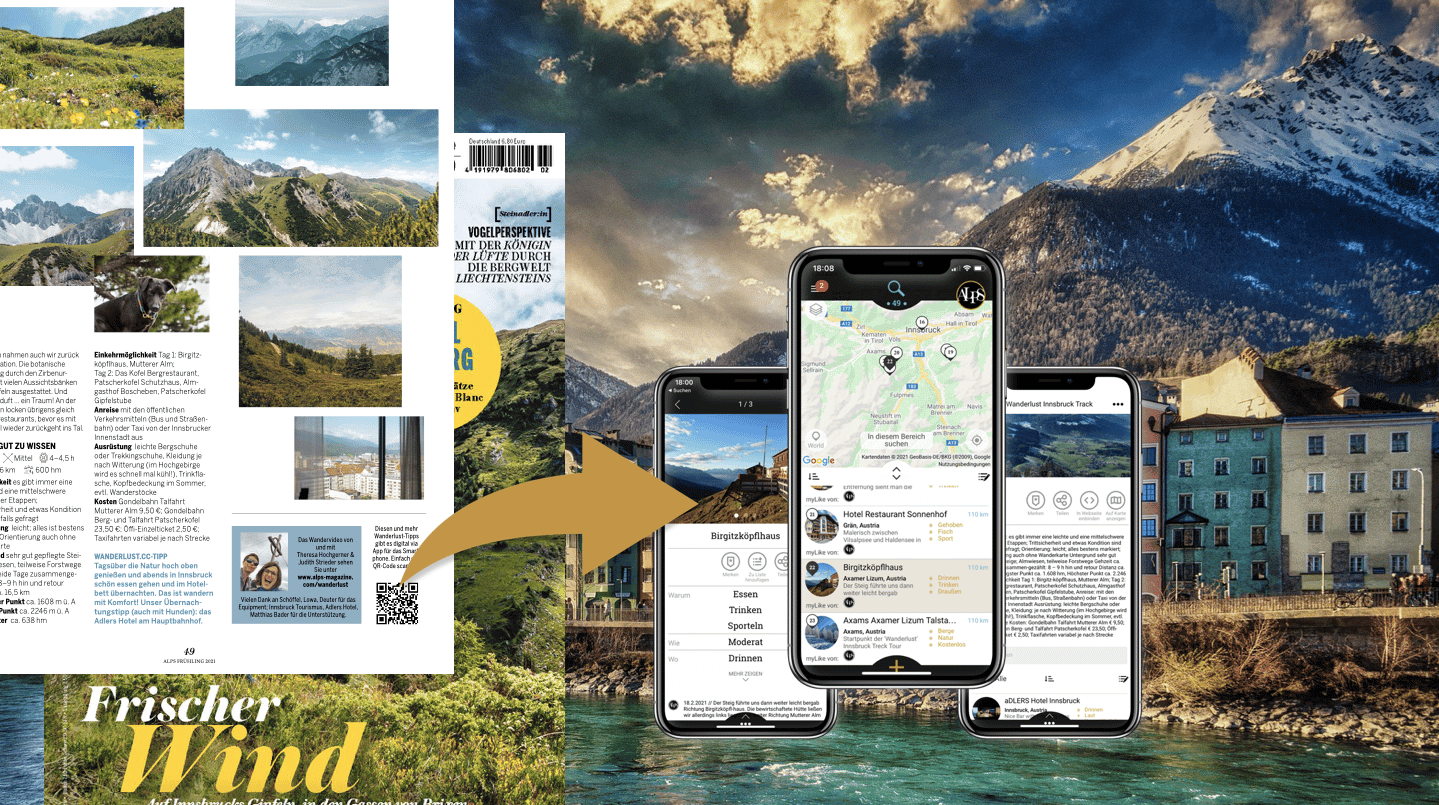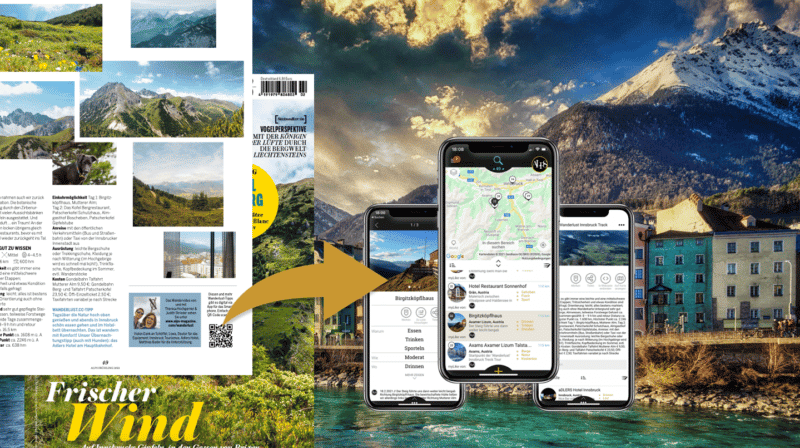 With on simple scan of the QR codes inside the magazines mobile maps, details per insider tips and lists organized by themes or tours can be synchronized to the readers smartphones without loading an app
This is exactly what ALPS magazine and the customizable travel guide platform myLike have now implemented. All tips on tours, culinary highlights or recommended accommodations – from rustic to exquisite – can now be accessed by ALPS readers on the go with just a scan or click and, of course, can be shared and booked.
And all that without loading an app: the technology is based on the myLike platform, which can be accessed via any browser, and QR codes in the magazine, with which the ALPS content transferred from print to mobile. The new digital media concept is completed by automatically updated interactive maps on the ALPS website generated with myLike's Map Widget – again ready to be synchronized with the readers smartphone at the click of a button.
Interactive maps, automatically generated with myLike's Map Widget allow the reader to explore the tips on ALP's' website and sync them to their smartphones with one click
Now ALPS is also a digital travel companion that makes every excursion or vacation in the Alps smooth and informed experience. At the same time myLike can be used by the readers as individual travel diary, in which they can enter notes, comments and recommendations for themselves or to share with others.
With myLike, ALPS has found a way for its readers to always be top informed while on the road:
Michaela Hammel, Managing Director ALPS Magazine: 'We've long been looking for a way for our readers to easily use our personally curated insider tips on the go – myLike is the perfect solution bridging the print and digital world.'
Recommend and be recommended: myLike connects
Now the ALPS magazine's content with tip character is available digitally and can be browsed geo-locally. ALPS readers can easily navigate via mobile maps to the sights, restaurants or experiences recommended by ALPS. Even bookings and reservations can now be made directly via smartphone. This makes the experience in the Alps more flexible, exciting and spontaneous, because the information is updated regularly.
'Being a mountain enthusiast myself, I am very proud that ALPS is using our technology to make its inspiring content available to readers as Digital Travel Guides.' says Uwe Hering, CEO and founder of myLike.
It is important to mention: myLike is not a 'one-way street' when it comes to content. Because the concept is also based on the user making his personal impressions available to other users and sharing his favorite places. This means that ALPS readers can now also directly post their own tips that are particularly close to their hearts.
About ALPS: ALPS is a premium magazine for the alpine lifestyle in the German-speaking world. Each issue fascinates with its high level of journalistic quality and opulent imagery. Whether architecture, real estate, hospitality, family stories, artists, culture, portraits and interviews – in ALPS you will find everything about the alpine way of life. But the diversity of ALPS also includes topics such as fashion, jewelry, cosmetics, furnishings, health and wellness and sports, as well as the animal and plant world. ALPS informs and entertains the discerning reader. www.alps-magazine.com
About myLike: myLike is a digital platform for media, mobility, travel, hospitality and tourism companies to provide their customers with their own multilingual digital travel guides and monetize their tips. With the myLike platform, personal recommendations for places, attractions and experiences can be made available to customers via all common communication interfaces and integrated into own systems and apps. myLike can be used by businesses as an open platform or as an exclusively branded white label version. If you want to create your own Digital Travel Guide contact: info@mylike.io.