by Cara Greiner | 28.02.2023 | Reading time: 5 minutes
Visit us at ITB Berlin 2023!
We are pleased to be exhibiting at the ITB in Berlin again this year and to be able to show the latest innovations in our Mobile Concierge and Digital Travel Guide.
How to find us:
ITB Berlin | 7-9.03.23 | Hall 6.1 | Booth 130
Why myLike for your hotel, mobility, tourism, travel or media company?
Improve not only your customer service with myLike, but optimise the entire customer journey of your customers and guests. By creating and sharing your personal tips, lists or tours with your favourite places, most beautiful experiences, great accommodations, tastiest restaurants and other personal highlights, you can offer your customers a whole new travel experience.
With your own digital travel guide on the myLike platform, you can also offer your own services directly in the app and additionally recommend partner services and make them bookable. This way, you can further improve your company's services, actively cross-selling and generate additional sales.
Individual tours for your customers and guests
With myLike, you can now create personal tours for your customers and guests. Recommend different highlights like a place with a beautiful view, a museum, a dream beach or a nice café for a short break as an experienceable tour, you decide the order. Your Digital Tour Guide will lead your guests to your selected attractions without any extra staff or additional effort. Learn more about the tour feature in our blog article.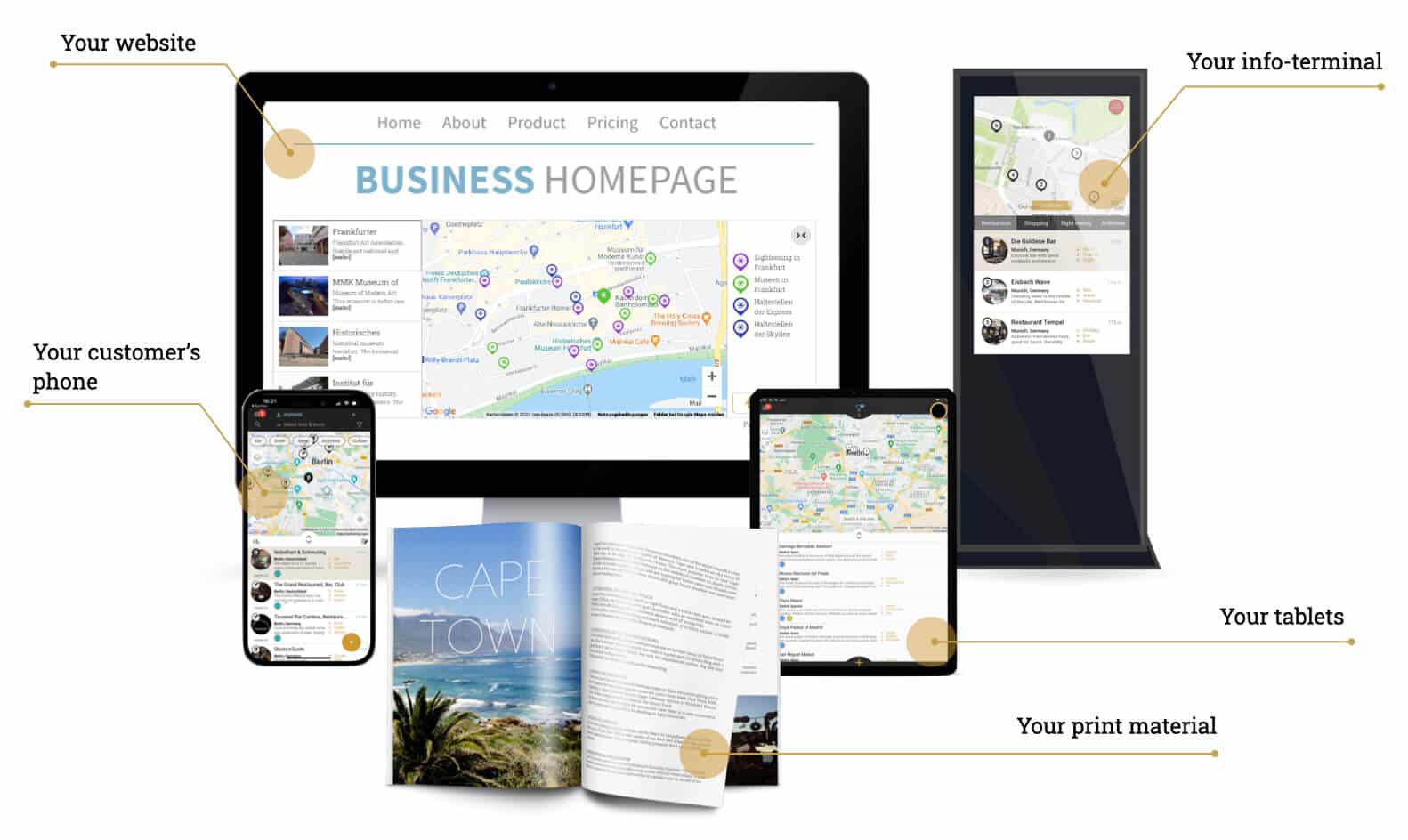 Integrability of myLike
To make it as easy as possible for your customers and guests to use your Digital Travel Guide or Mobile Concierge, the integration of your tips into your systems and communication channels is optimised. All your customers need to use it is a smartphone with which they can scan your personal QR code or open shared link – without loading an app.
Your personal digital travel guide and mobile concierge as a white label.
You can now also use myLike as a 100% branded version. This way, you can adapt the platform to your corporate identity and, as your exclusive travel guide, tailor it even more individually to the wishes of your customers. Furthermore, you can – if you wish – build your own community under your brand, which can recommend new places to each other. Find out more about myLike on our website or make an appointment with us at ITB 2023 !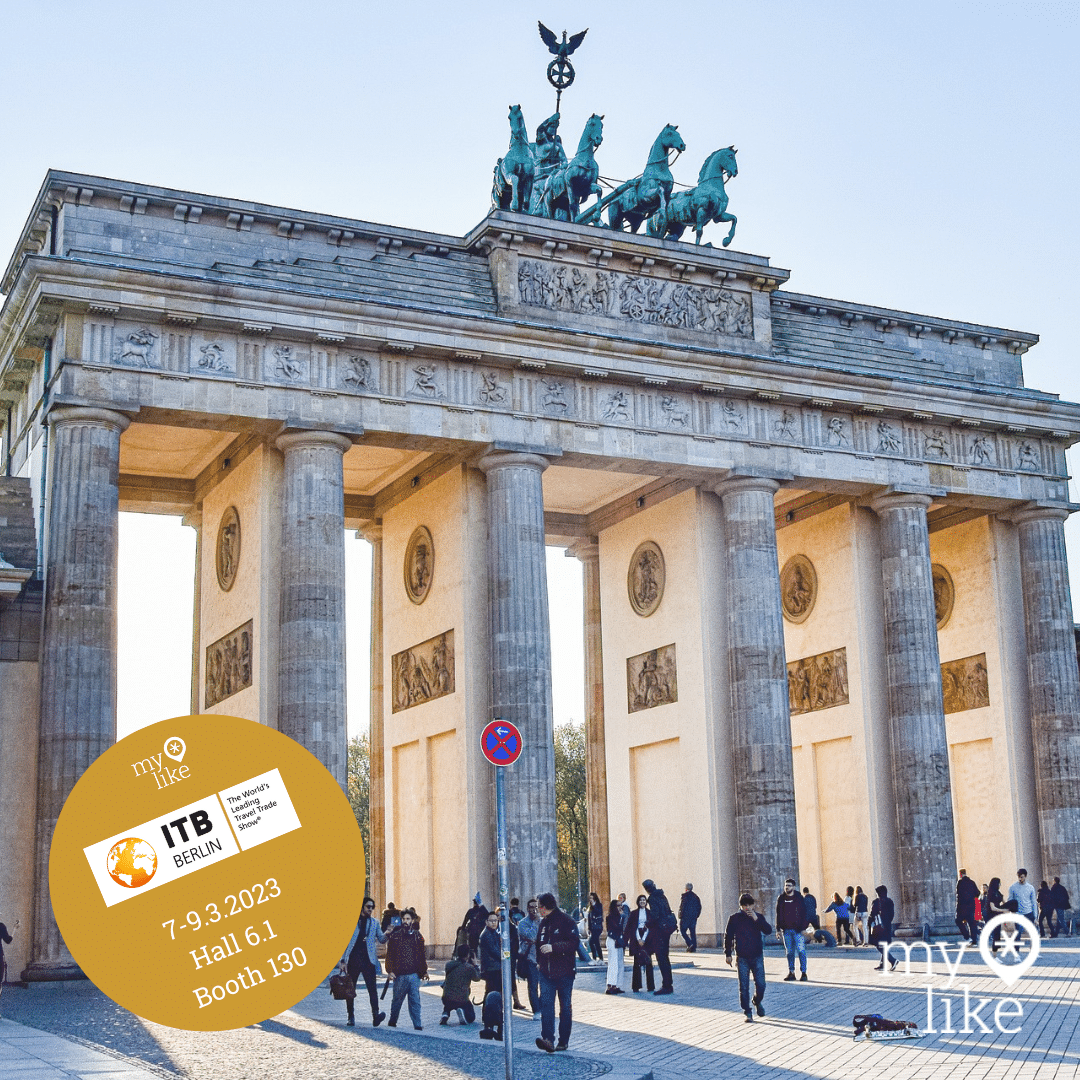 Frequently asked questions about myLike
How can I use myLike as a marketing tool?
Uwe
2023-02-28T12:13:49+01:00
On which devices and systems can I use myLike?
Uwe
2023-02-28T12:14:15+01:00
myLike is a platform solution available as App, PWA, Map Widget and Desktop and can be used and integrated in various devices and platforms:
On your smart phone:
mylike is available for IOS and Android as app – please go to the respective app store for download. In addition, you can use it on your browser as PWA (Progressive Web App) (please see Guest-Mode)
Your website, blog or info-terminals
With myLike's Map Widget you can integrate interactive maps in your website, blog, Wifi landing-pages or info-terminals.
Your own apps or systems:
If you are a business user of myLike's Mobile Concierge or Digital Travel Guide, you can integrate myLike in your systems, apps or terminals as Progressive Web App (PWA).
Who can use myLike?
Uwe
2023-02-28T12:14:42+01:00
myLike can be used by businesses, blogger and private user.
Digital Travel Guide 
Mobile Concierge
Blogger Tool

Travel companies, OTAs

Hotels

Blogger
(travel, food, lifestyle)

Travel enthusiasts

Mobility Companies
(train, airline, bus, taxi, limoservice)

Hostels

Vlogger

Everybody who wants to
share insider tips his own city
or travels with his friends

Rental Companies
(car, bike, boat and scooter..)

Managed Apartments

Influencer

Communities
(consultants, airliner, travel groups…)

Tour operators

Bed& Breakfasts
Couchsurfer hosts and guests

Media Companies
(travel and lifestyle)

Airbnb hosts

DMOs

None-Profit Communities & NGOs
(e.g. Erasmus)