Three Perfect Days
Amalfi Coast
Italy always looms large for American travelers, but over the past two years its unique blend of centuries-old traditions and big-hearted resilience has proven particularly magnetic. We watched videos of locked-down locals singing from their balconies, soaked up the cinematic sun in the Disney/Pixar film Luca, and ate vicariously through Stanley Tucci's Searching for Italy—and now we're ready to get back there! Perhaps the purest sense of la dolce vita can be found along the Amalfi Coast. A favorite of everyone from John Steinbeck to Jackie Kennedy, the roughly 30-mile stretch of resort towns is magnificent, but it's only one of many draws to the culturally rich region of Campania. Before making the trek to the coast, be sure to visit the underrated city of Naples and the ruins of Pompeii, which stand in the shadows of mainland Europe's only active volcano, the legendarily destructive Mount Vesuvius. It's a place where Diego Maradona and margherita pizzas are religion, and where a piece of history can be found around every cliffside curve.
The Amalfi Coast venues featured here have been neatly collected for you to download and keep forever on the free myLike app, a platform for collecting, organizing, and sharing all the places you need and love in any city in the world. You will find there also our other recommendations – ready to explore. Just click on the 'load to mobile' button on the interactive maps.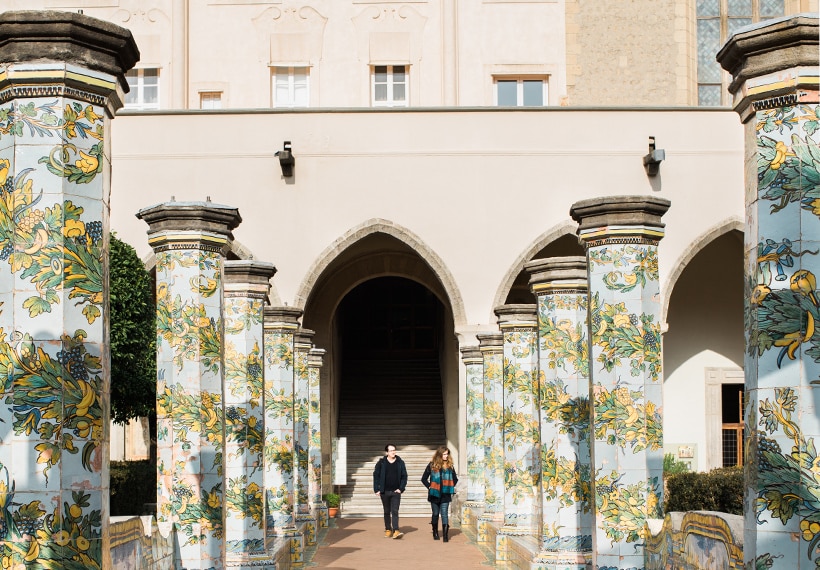 Day 1
Baroque grandeur and too much pizza in Naples
Naples is in my blood. Along with Sicily, it's one of the areas my family emigrated from in the late 19th century. Neapolitan cuisine defined the meaty ragù my great-grandmother cooked every Sunday, the city's famed presepe (Nativity scene) came out each holiday season, and, for better or worse, colorful dialectal profanities and hand gestures peppered our conversations. And yet, until now, I've never stepped foot south of Rome.
So, before I tackle the resplendent beauty of the Amalfi Coast, I have to pay my respects to Southern Italy's largest city. I awake at the bayfront Romeo Hotel, where I have a perfect view of the hilltop Castel Sant'Elmo fortress and countless balconies strung with drying laundry. While I could spend the day down in the hotel's subterranean spa, the place is filled with details that practically beg me to explore the city. "Go check out some antiquities!" my room's lava stone vase implores. "See what all that Pompeii fuss is about," demands the Andy Warhol print of Mount Vesuvius at reception.
Walking shoes on, I head for the 162-year-old Gran Caffè Gambrinus, an Art Nouveau jewel box where I order a pistachio cream–topped espresso and one of the city's signature sfogliatelle, a crisp, seashell-shaped pastry filled with orange-scented ricotta. The café is a great place to participate in the tradition of il caffè sospeso ("suspended coffee"), which became popular amid the economic hardships of World War II. The idea is to "pay it forward," not with a kind word or a good deed, but by literally paying for the next customer's cup of coffee.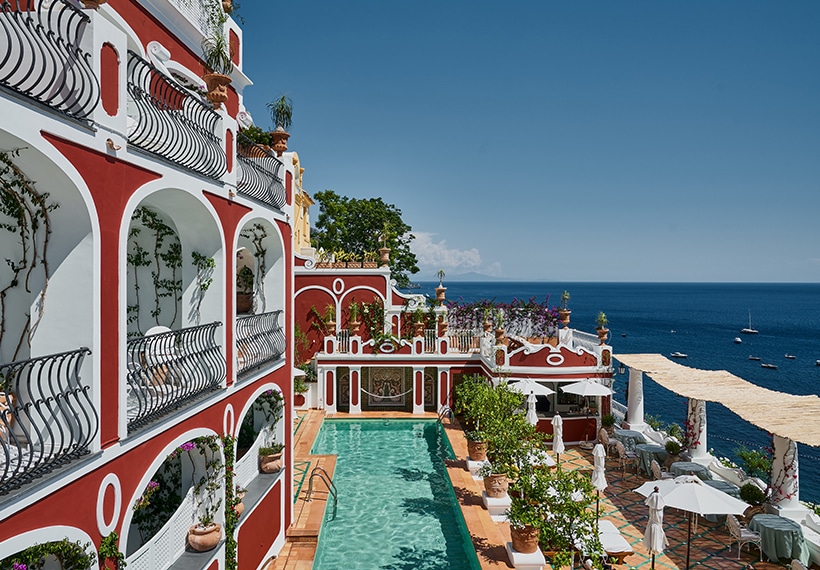 Day 2
Exploring the ruins of Pompeii and enjoying the seaside views of Positano
I have a big day of walking planned, so despite yesterday's pizza bacchanalia, I'm once again ready to carbo-load. I stroll for 10 minutes, passing through the glass-roofed Galleria Umberto I shopping arcade—the world's most ornate shortcut?—and stop at Pintauro for a fresh-from-the-oven sfogliatella. This small shop is where a baker first introduced the pastry to the city 204 years ago, after tasting one at a cloistered convent on the Amalfi Coast.
Post-pastry, I think I have the energy to tackle Pompeii. I pick up a small, zippy rental car—this is Italy, after all—and about a half hour later I've traveled 16 miles south and 19 centuries backward, to the world of 79 A.D. At the entrance gate to the Archaeological Park of Pompeii, I meet my guide, Paolo Gardelli, an archaeologist who, when he's not showing me around, is busy excavating a seaside Roman villa in nearby Castellammare di Stabia.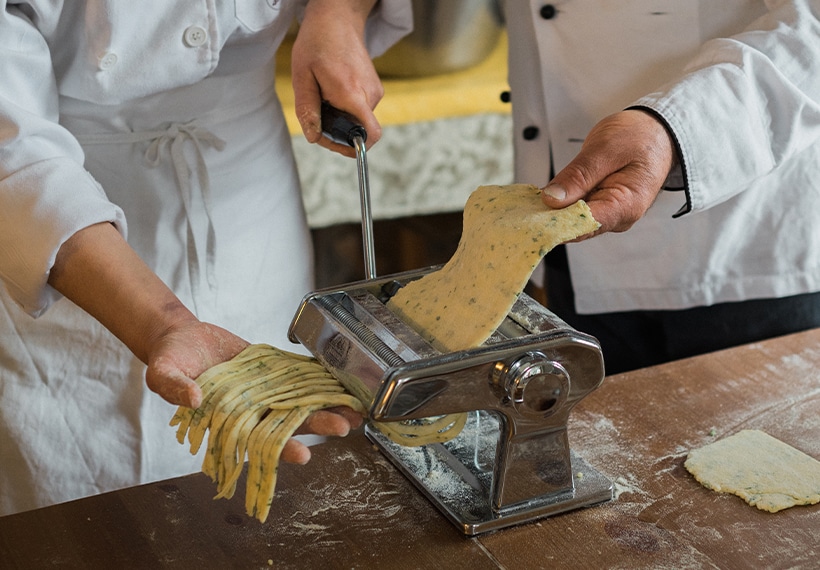 Day 3
Cooking and driving along the Amalfi Coast
I'm not prepared for Le Sirenuse's breakfast spread, which is arguably the most scenic buffet in the world, set in front of a window directly overlooking the Santa Maria Assunta's tiled dome and the sherbet-hued houses beyond. The comestibles are nearly as colorful, all berry-topped tarts and fresh apricots and golden bomboloni. I have to limit myself, though, because eating—or cooking, anyway— is my big activity for the day. Fueled on two cappuccinos, I bid Positano ciao and hit the road.
Many visitors never leave the famed shoreline, but I've booked an Airbnb Experiences visit to an agriturismo, up a mountain in the village of Agerola. On a map, La Vigna degli Dei is only a few hundred feet from the sea, but getting there requires a semi-harrowing drive. The roads are spaghetti-thin, the mountain tunnels narrow as bucatini holes, and I'm every color of a caprese salad—mozzarella-white knuckles, with a face switching between queasy basil-green and embarrassed tomato-red—as elderly locals swerve their tiny Fiats around me while I navigate hairpin turns at 5 mph.